Have you given up on lipstick now that we have to wear masks?
After spending several months in quarantine, this social gal was ready to put on some grown-up clothes and make-
up.   I missed wearing make-up and almost forgot how to apply it!  I am a make-up geek.  I own way more than I need.  I do love a good, expensive lipstick (YSL & Hourglass are my current favs) .  I'm known to spend hours in Sephora or at the beauty counters trying on colors – just for fun.  Who knew back in 2019 that we'd be discussing lipsticks that will outlast your mask??
So quarantine is over, or least a little more relaxed.  I get "fixed up", jump in the car then arrive and put on my mask.  I'm guessing you know what happens next, right?  Every time,  lipstick ends up all over my face and inside my mask. I know I can't be the only one experiencing this!  With so many people struggling financially, I decided to do some research and find the best inexpensive drug store brand mask-friendly lipstick. So, here we go….
I bought 5 long-wear, smudge resistant lipsticks at my local Walgreens.  I wore them each a couple times.  I evaluated the staying power & smudge resistance, the feel on my lips, the color selection and the price. Enter Ellen's Maskproof Lipstick Scale, or EMLS from here on out!  It's a sliding scale from 1 to 5 (5 being the highest rating).
Loreal Infallible Matte Lip Crayon – Lasting Wear, Smudge Resistant
This was a beautiful matte lip crayon that  comes in 18 matte shades.  I tried on #507 – Spice of Life (a brownish red).  It looked lovely on, but it definitely wasn't smudge resistant.  It came off on my water bottle and in my mask.  After a while my lipstick was uneven and blotchy and a little drying.  It was $11.99 at Walgreens.  EMLS rating:  I would give this lipstick a 3, as it was not smudge resistant.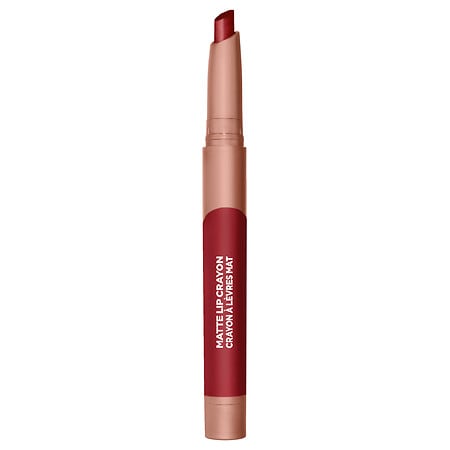 Maybelline Super Stay Ink Crayon
I tried #75 – Speak Your Mind.  I didn't love the color on me. (Exactly why I buy more expensive lipstick.  I can try first.  Now I am stuck with a color I will never wear).   It went on very similarly to the Loreal Infallible and it was also a matte finish.  It runs $9.49 at Walgreens.  Although the color is rich and deep, I did not feel is was "super stay" as it came off on my water bottle.  I did like the shape of the crayon.  It was pointed rather than flat like the Loreal and made the application easy to apply.  It comes with its own sharpener which is helpful to keep the shape.  Also, after wearing it a while my lips felt a little tacky;   it also has a suntan lotion smell, which isn't unpleasant, but is a little odd.  I am giving this one a 2 on the EMLS.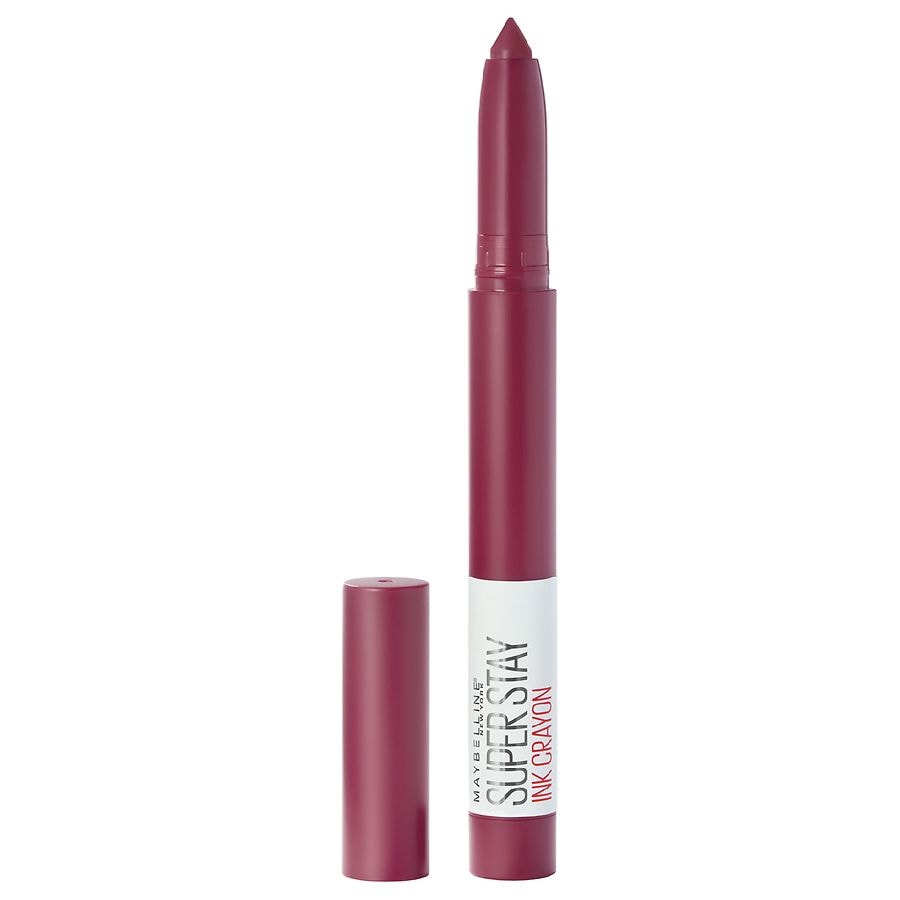 Revlon ColorStay Ultimate Suede
I loved the color options and their names.  There are 20 shades whose names  were thoroughly entertaining!  I almost bought 3 shades because of their fun names. I held back and bought #080 Fashionista  (I just couldn't help it!).  The price is $9.79 at Walgreens.  The color seemed to have a little sheen and I had high hopes.  BUT,  those are all the positives about this lipstick.  The Issues: First, it has a cheap clear lid.  Every lipstick wearer knows that those clear lids crack and break in your purse.  There goes the lipstick and your expensive purse!  So, for the price, I thought the packaging looked cheap.  In addition, it felt gross and sticky on my lips.  I could not wait to get it off!  I thought maybe I was judging too harshly, so I tried it on again.  Nope, it's heavy and sticky.  Of the 5 that I tested it came in dead last.  I give it a 1 on the EMLS.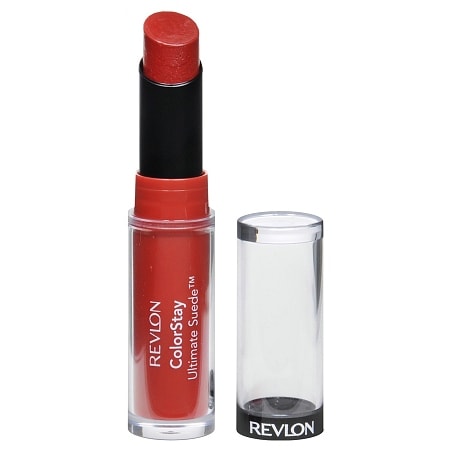 Covergirl Outlast All-Day Lipcolor
I tried on #550 – Blushed Mauve.  This lipstick claims it can last as long as 24 hours.  And I have to say I was very impressed with it.  It comes in a box with 2 items – the lipstick and a moisturizing top coat.  They offer a whopping 27 shades.  It really did stay on all day and did not transfer on my mask.  I periodically added  the topcoat to remoisturize the color.  The cost – a real bargain at $7.99!  The only thing I didn't like about it is that it is 2 pieces- a lipstick and a balm.   For me this translates to 2 items to get lost in my bottomless pit of a purse, or worse, 2 pieces to fall down in between the console in my car (My husband can attest.  I lose everything there!).  These are real dilemmas!  I misplace lipsticks all the time.  Therefore, I am giving this one a 4.5 instead of 5.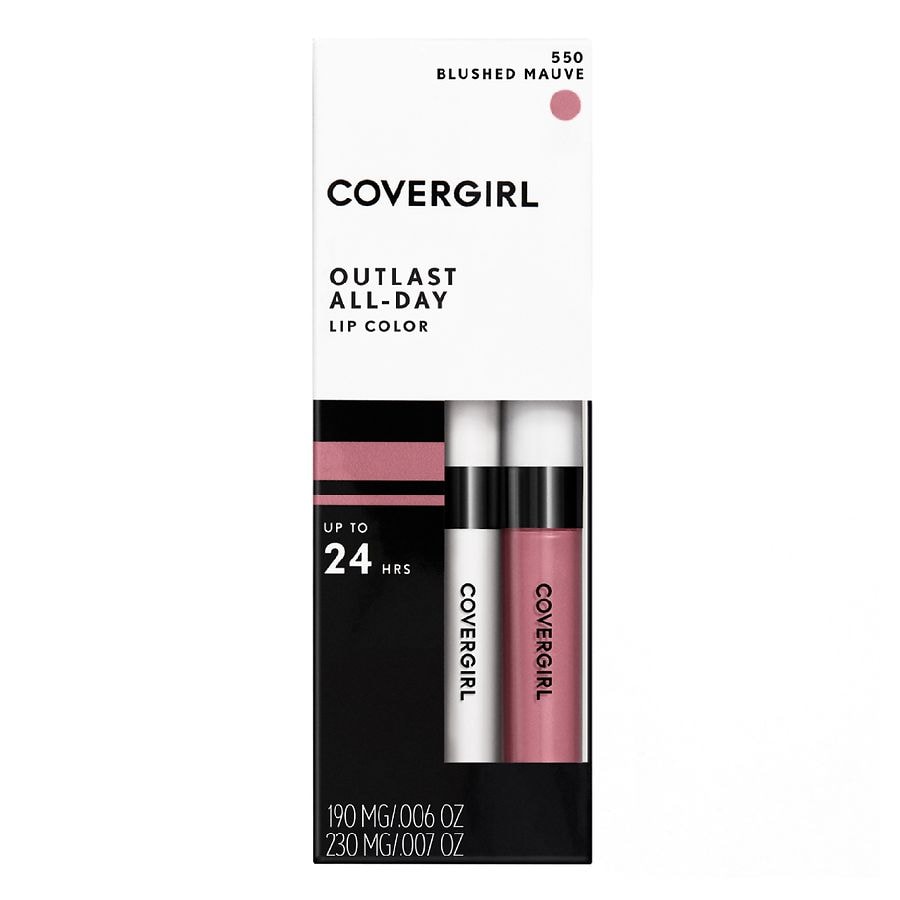 Rimmel Provocalips
The was the first time I tried Rimmel products.  It claims to be 16 Hours Kiss Proof Lipstick.   The Provocalips comes in 14 shades (okay, not a huge selection).  One end is a liquid lipstick and the other end is a clear topcoat.  I must say I was impressed with the price.  It was $6.29 when I purchased it.  Now, they are on sale for $3.77 at Walgreen!!  I was the most impressed with how well it lasted and how it felt on my lips.  It claims to last 16 hours and be kiss proof. My husband was happy to help me with research on this one!  It did not come off on my mask, my water bottle or my husband.  The liquid color is applied first.  You wait a minute to apply the topcoat.  The topcoat gives it a light creamy shine and keeps your lips moisturized.  I am giving this one a 5, as it meets all my requirements, and the price can't be beat.
So, there you go, five long-wearing lipsticks.  My TOP pick is the Rimmel Provocalips, followed by the Covergirl Outlast All-Day Lipcolor.  I hope very soon we will no longer need masks, but until that time comes you can rock an inexpensive mask-friendly lipstick under that mask.  What about you? Have you found a lipstick that passes my Maskproof Lipstick Scale?? Do share!